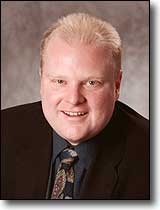 Elected in 2000 to Toronto City Hall, Councillor Rob Ford who represents Ward 2 Etobicoke North, is the biggest embarrassment in Toronto City Council political history. He is a foul-mouthed, obnoxious, irrational right-wing reactionary who has no vision and is prone to public tantrums, bullying and outright lying. Whenever Ford doesn't get his way at City Council or thinks he has been slighted, he feels the need to yell, hurl insults and act like a child. Ford's appeal to his supporters and how he scores political points with fellow bellicose right-wingers is his constant grandstanding regarding minor and superficial expenditures, and other preposterous and unrealistic suggestions to raise city revenue.
Councillor Kyle Rae
said the following about Ford: "I think [we're] embarrassed that we have a buffoon on council. I think he is fairly ostracized within council. It's almost like we're stuck with him."
Ford provides ludicrous answers to big picture items, such as cutting minor council and councillor expenditures which will somehow generate hundreds of millions of dollars for the city budget. And his justifications for opposing or supporting various city by-laws are ridiculous. He opposed banning pesticides and claimed, according to his logic, that they aren't a health risk because our parents used them and they're living longer lives, and that weeds are ugly. Ford also believes that the city doesn't require a tree-protection by-law to grow an urban forest as "we've got thousands of trees". Right.
Essentially, he is a Teabagger from Toronto: he represents the very short-sighted and failed Sarah Palin/George W. Bush agenda, but with a much more pugilistic tone. Now that he is running for Mayor of Toronto, an examination of his record and his own words are in order.
The most notorious incident involving Rob Ford occurred at a
Toronto Maples Leafs game at the Air Canada Centre
. Ford got very drunk, yelled obscenities and essentially made a spectacle of himself. Some people asked him to tone it down and Ford began harrassing them. Dan and Rebecca Hope, from Enniskillen in Durham Region, were on the receiving end of Ford's nasty obscenity-filled attacks, and was eventually escorted out of the Air Canada Centre by security. The Hopes did not know the identity of the man who harrassed them, but Ford had left a business card identifying him as a city councillor. The couple wrote a letter to Toronto city clerk Ulli Watkiss. When reporters asked Ford about it, he lied and claimed he wasn't at the game, and then alleged he was being slandered, that it was a "hatchet job" and that he was actually a victim. Ford changed his story however the following day, admitted that he had lied and that he harrassed Dan and Rebecca Hope. Ford's excuse was that he had "one too many beers" prior to the game, and was going through "a few personal problems".
However it doesn't matter if Ford is drunk or not, as Ford continually embarrasses himself. Ford was opposed to funding an AIDS prevention program and made
homophobic remarks
: "If you are not doing needles and you are not gay, you won't get AIDS probably. That's bottom line." Regarding bike lanes and
cyclists who are killed
in accidents: "I can't support bike lanes. Roads are built for buses, cars, and trucks. My heart bleeds when someone gets killed, but it's their own fault at the end of the day." Ford actually now supports bike lanes in the downtown core, however we don't know if it's still their "own fault at the end of the day" if someone gets hit and killed. In March 2003, Ford suggested that Toronto should become a
"refugee-free zone".
Here are some more gems, thanks to the
Globe & Mail
:
"This is an insult to my constituents to even think about having a shelter in my ward!"

- April 2002
Mr. Ford lets fly during a debate on whether there should be homeless shelters across the city, instead of only downtown
.
"I know he's a weasel and weasels and snakes belong in the zoo. I'm not letting this go. He did it out of spite."
- February 2003
Mr. Ford lashes out after returning late from lunch and learning that councillor George Mammoliti had pushed through an increase to the Toronto Zoo's funding
.
"It just makes me sick when you left-wing nut jobs like Howard Moscoe are down here trying to bash the police non-stop."
- February 2003
Mr. Ford reacts to councillor Howard Moscoe's suggestion that police overtime be audited
.
"To me, if you are going to water plants, water all the plants. You just don't pick and choose what plants you've got to water."
- April 2004
Mr. Ford alleged his plants weren't being tended by staff. His poinsettia died; Ford called it "plant discrimination." He later tried to scrap the watering service
.
"Pathological liars."
- June 2004
Mr. Ford describes fellow councillors during a debate. He apologized but insisted 'The truth is the truth.'
"This is so foolish. What are we going to ban next? Fireplaces?"
- September 2004
Mr. Ford criticizes a bylaw requiring permits and a fee to fell any tree thicker than 30 centimetres
.
"I don't understand. No. 1, I don't understand a transgender, I don't understand, is it a guy dressed up like a girl or a girl dressed up like a guy? And we're funding this for, I don't know, what does it say here? We're giving them $3,210?"
- June 2005
Mr. Ford queries grant programs funded from the city coffers.
"People do not want government housing built in the city of Toronto. They want roads fixed, more police presence, but they don't want more government housing that will depreciate the value of their property."
- July 2005
Mr. Ford questions the need to speed up construction of affordable housing
.
"She's a joke. She's a waste of time. A waste of skin."
- July 2005
Mr. Ford on councillor Gloria Lindsay Luby, during a debate over a pothole
.
"Giving the mayor more power for this council is like giving criminals free guns."
- December 2005
Mr. Ford during a debate on a new structure for city government. The comment drew a chorus of demands, ultimately unsuccessful, that he withdraw the remark
.
A recent Toronto Star/Angus Reid poll found Ford in second place behind George Smitherman for Mayor of Toronto. Ford's supporters jumped all over this and celebrated that their man was on his way to being mayor. However, only 413 people were polled online. Not only is that figure lower than the actual attendance at last month's
debate in Scarborough
, but if you ever read the online comments from news websites, they're predominantly very angry, high strung, hysterical ignorant know-nothing reactionaries. But what Ford's supporters and some in the media failed to realize and concede is that the highest recipient in the poll was "Undecided". 51% of those polled in the online survey of 413 people were undecided. 211 people were undecided. 68 people prefered George Smitherman and 55 people chose Rob Ford. A whopping 55. Regardless, the manner in which this poll was reported in the some media circles, particularly the Toronto Star and CP24, was that Toronto was undergoing a right-wing shift. If they only checked the numbers and dynamics of this poll.
Finally, a clip from the 2005 documentary
Hogtown: The Politics of Policing,
provides a classic example of Ford in action. In the clip, reporters are asking Councillor Case Ootes about his vote on a police matter. Ootes is defending himself as Ford lied to the press and claimed that Ootes told him how he voted, when Ootes did no such thing. The reporters then confront Ford on his lie and he refuses to answer the question. Councillor Mammoliti, (who Ford once referred to with an ethnic slur, "gino boy"), then claims that one of the reporters, John Barber of the Globe & Mail, swore at and insulted Ford. Whether or not that is true, Ford (and Mammoliti) then reduce themselves to school yard bullies, pouncing on Barber, getting in his face, and following his every move.