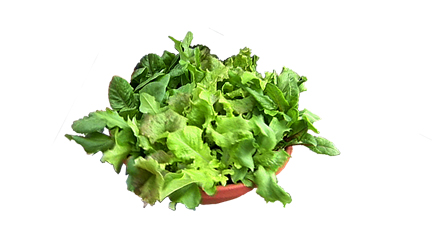 Rebecca Gerendasy, Co-founder of Cooking Up a Story and video journalist:
Now that Spring is here, the Farmers Market is finally open! I love strolling through to see all the new seasonal produce, food products, and talk with the farmers and artisans. My latest discovery was a Salad Bowl made by farmers Ron and Joan Baune, of Rainy Way Farm. Ron showed me how to harvest the lettuce leaves so it could keep producing. He said most would last through mid-June and into July with good care
.
I wanted to learn how to make these bowls, so I went out to their farm to film the process. It's actually very easy! Here's what you'll need, including the starter plants:

• 20" pot
• potting soil
• 2 buttercrunch [a butterhead variety of lettuce]
• 4 oak leaf [a loose leaf variety of lettuce]
• 7 red fire [a loose leaf variety of lettuce]
• 4 salad bowl lettuce [a loose leaf variety of lettuce]
• 2 swiss chard [a leafy green from the beta vulgaris family]

If you have a deck, balcony, or sunny window sill, container gardening is a great way to bring some fresh greens, tomatoes, or maybe even some squash into fingers reach. Make more than one container and give it as a gift! Either way, it always feels good to dig around the dirt.

Originally posted on Cooking Up a Story.