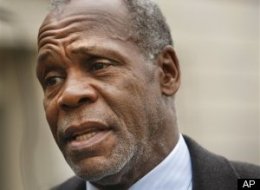 Eleven people including actor Danny Glover were arrested during a labour protest in Gaithersburg, Maryland on Friday afternoon at the headquarters for Sodexo, a food service company. Montgomery County police Captain Paul Starks said Glover and other protesters stepped beyond yellow police tape and were asked to step back three sepearte times. They were arrested when they refused.
The other protesters were given citations for trespassing and released. Starks said they have to pay either a $1,000 fine or face 90 days in jail. He also said that protest organizers informed the police beforehand that some of them would risk arrest.
The Service Employees International Union was protesting claims regarding Sodexo's unfair and illegal treatment of workers. Sodexo countered that the union was spreading misinformation.
Glover's occupation and status as a Hollywood star had no effect on the police, whose arrest was not revoked.