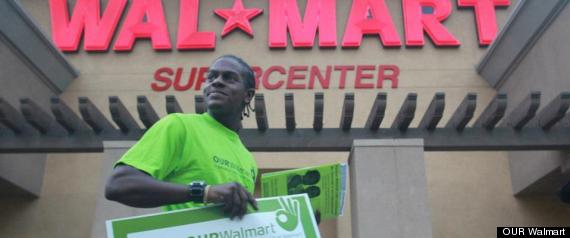 For the first time in Walmart's 50-year history, workers at multiple stores went on strike Thursday in Los Angeles.
For the first time in Walmart's 50-year history, workers at multiple stores have gone on strike, even though their jobs are not protected by a labor union.
More than 70 Los Angeles Walmart workers from nine stores walked off the job Thursday, Allison Mannos, of labor advocacy organization the Los Angeles Alliance for a New Economy, told The Huffington Post.
Workers and supporters protested outside the Pico Rivera Walmart store, carrying signs that read, "On Strike for the Freedom to Speak Out" and "Walmart Strike Against Retaliation." The workers said their complaints about working conditions and low pay have been met with threats, suspensions and terminations.
The strikers said they plan to return to work Friday. Some of the workers will speak at LA City Hall Friday to relay Walmart's response to the strike. The strike was coordinated by OUR Walmart, a labor group backed by the United Food and Commercial Workers (UFCW) that defends Walmart workers' rights.
Walmart workers have recently filed more than 20 charges of unfair labor practices across the country with the National Labor Relation Board, according to Dan Schlademan, director of Making Change at Walmart, the campaign behind OUR Walmart. The charges, mostly filed in recent weeks, allege that workers have either been fired or had their hours reduced after activity with OUR Walmart. Workers also allege that they have been told not to talk to OUR Walmart organizers and that doing so could shut down stores, leaving employees without a job, Schlademan told HuffPost.
One of the charges was filed on behalf of Monique Velasquez, a Pico Rivera Walmart employee who participated in the strike Thursday. Velasquez told HuffPost that after becoming active with OUR Walmart, her hours were cut from 30 hours a week to eight. "I'm striking because I was retaliated against for speaking out," she said. Valesquez, a single mother of five children, said that with eight hours worth of pay, she "can't even pay one bill. It's very, very hard."
"Anyone who goes against management, you're pretty much putting a target on your back. They intimidate you by cutting hours or picking on you in any way they can," Valesquez said.
Continue reading
here
.