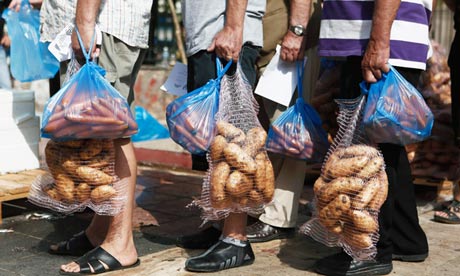 People hold sacks of potatoes during a food distribution organized by Golden Dawn, in Athens.
The Guardian
:
Greece's far-right Golden Dawn party is increasingly assuming the role of law enforcement officers on the streets of the bankrupt country, with mounting evidence that Athenians are being openly directed by police to seek help from the neo-Nazi group, analysts, activists and lawyers say.
In return, a growing number of Greek crime victims have come to see the party, whose symbol bears an uncanny resemblance to the swastika, as a "protector".
One victim of crime, an eloquent US-trained civil servant, told the Guardian of her family's shock at being referred to the party when her mother recently called the police following an incident involving Albanian immigrants in their downtown apartment block.
Other Greeks with similar experiences said the far-rightists, catapulted into parliament on a ticket of tackling "immigrant scum" were simply doing the job of a defunct state that had left a growing number feeling overwhelmed by a "sense of powerlessness".
Far from being tamed, parliamentary legitimacy appears only to have emboldened the extremists. In recent weeks racially-motivated attacks have proliferated. Immigrants have spoken of their fear of roaming the streets at night following a spate of attacks by black-clad men on motorbikes. Street vendors from Africa and Asia have also been targeted.
Golden Dawn was the only party that was helping Greeks, hit by record levels of poverty and unemployment, on the ground. Through an expansive social outreach programme, which also includes providing services to the elderly in crime-ridden areas, the group regularly distributes food and clothes parcels to the needy.
The strategy, however, appears to be paying off. On the back of widespread anger over biting austerity measures that have also hit the poorest hardest, the popularity of the far-rightists has grown dramatically with polls indicating a surge in support for the party.
One survey last week showed a near doubling in the number of people voicing "positive opinions" about Golden Dawn, up from 12% in May to 22%. The popularity of Nikos Michaloliakos, the party's rabble-rousing leader had shot up by 8 points, much more than any other party leader.
Riding the wave, the party has taken steps to set up branches among diaspora Greek communities abroad, opening an office in New York last week. Others are expected to open in Australia and Canada. Cadres say they are seeing particular momentum in support from women.
Continue reading
here
.