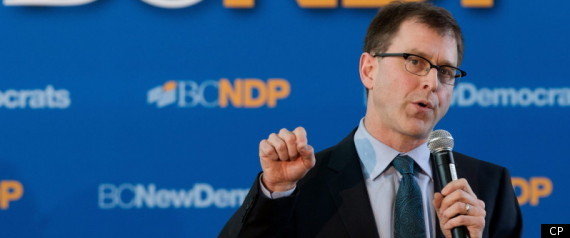 The Vancouver Sun
:
The BC New Democrats are surging ahead of the BC Liberals in popularity, according to a new Angus Reid poll released Friday.
The survey shows that if an election was held tomorrow, 49 per cent would support the NDP, compared with just 22 per cent for the Liberals.
The BC Conservatives followed with 19 per cent and the Green Party came in last at nine per cent.
The NDP continues to lead in all four regions of the province, garnering the backing of at least half of decided voters in Metro Vancouver (50 per cent) and Vancouver Island (55 per cent.)
In the Interior, 35 per cent of decided voters would cast a ballot for the NDP, with the BC Conservatives and BC Liberals in a close fight for second place.
NDP leader Adrian Dix is still the most popular choice for premier with 48 per cent approval rating, compared with 29 per cent for Premier Christy Clark.
Green Party leader Jane Sterk checks in at 25 per cent approval rating, while BC Conservative leader John Cummins dropped to 24 per cent.
The poll also suggests the economy remains the top issue for British Columbians followed by health care, leadership and the environment.
The survey polled 804 adults between July 30 and Aug. 1. The margin of error is plus or minus 3.5 per cent.