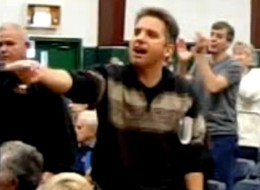 At a town hall meeting on November 14 held by Democratic Congressman Dan Lipinski of Illinois, a group of teabagging idiots, who call themselves the "Chicago Tea Party Patriots", heckled and ridiculed a grieving copule and insinuated that they concocted their sad story.
Dan and Midge Hough shared at the meeting how they believed the lack of health insurance resuled in the death of their daughter-in-law and her unborn child. Twenty-four-year old Jennifer did not have insurance, and according to her in-laws, she was not receiving regular prenatal care and was not correctly treated when she became ill. Jennifer came down with double pneumonia which progressed into septic shock and ended up in an emergency room. She suffered a heart attack, her brain bled and had a stroke, which resulted in her baby dying and Jennifer passing a few weeks later.
Midge Hough was heckled by anti-reform crowd members and responded in tears:
You can laugh at me, that's okay. But I lost two people, and I know you think that's funny, that's okay
.