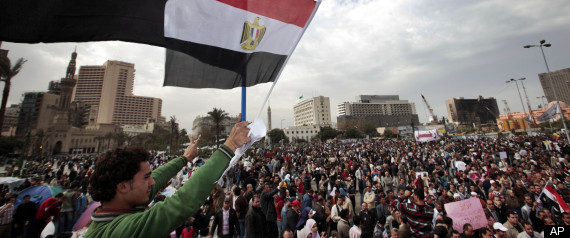 The Huffington Post
:
Cairo — Egypt's vice president met a broad representation of major opposition groups for the first time Sunday and offered new concessions including freedom of the press, release of those detained since anti-government protests began nearly two weeks ago and the eventual lifting of the country's hated emergency laws.

Two of the groups that attended the meeting said this was only a first step in a dialogue which has yet to meet their central demand -- the immediate ouster of longtime President Hosni Mubarak.

The offer also included a pledge not to harass those participating in anti-government protests, which have drawn hundreds of thousands at the biggest rallies. The government agreed not to hamper freedom of press and not to interfere with text messaging and Internet.

The offer to eventually lift emergency laws with a major caveat -- when security permits -- would fulfill a longtime demand by the opposition. The laws were imposed by Mubarak when he took office in 1981 and they have been in force ever since. They give police far-reaching powers for detention and suppression of civil and human rights.
Continue reading
here
.