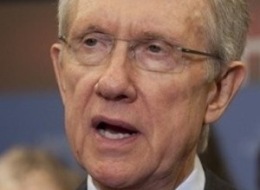 Democratic Nevada Senator Harry Reid, the Majority Leader of the United States Senate, proclaimed on Friday that he is committed to holding a separate vote on a public health insurance option in the next few months. Reid is attempting to placate progressive Democratic supporters who are disappointed with the current health insurance reform bill which is on the verge of passing today. In a letter to two progressive colleagues in the Senate, fellow Democrat Jeff Merkley of Oregon and independent Bernie Sanders of Vermont, Reid apologized for his inability to get a public insurance option or plan into the health care reform bill, and pledged to make the public option an eventual reality.
Hey Harry, why didn't you take this approach last year and hold an up and down reconciliation vote on the public option then?
As you know, I am a strong supporter of a public option, and I included the HELP Committee's public option in the bill I brought to the senate floor last year. I was disappointed when it became clear that we did not have the votes to keep it.

Nevertheless, like you, I remain committed to pursuing the public option. While I believe that the legislation we are considering does much to provide affordable coverage to millions of Americans and curb insurance company abuses, I also believe that the public option would provide additional competition to make insurance even more affordable. As we have discussed, I will work to ensure that we are able to vote on the public option in the coming months
.
Reid's letter demonstrates that he does seem to be commited to the public health insurance option, and has been throughout the health care debate. He tried several times to garner sixty votes apparently needed, according to those with that mentality, to pass variations of the public plan. Shockingly it failed. Regardless, Reid in fact could have just passed the public health insurance option through the reconciliation process in the first place (an up and down vote or budgetary procedure in the Senate which only requires a simple majority of fifty-one votes).
POrEID
-