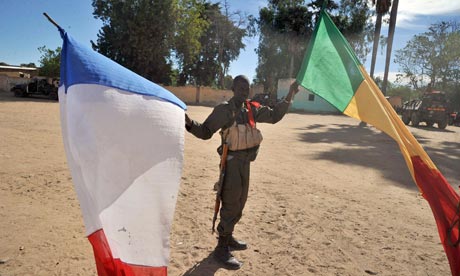 The Guardian
:
French intervention in Mali will fuel terrorism, but the west's buildup in Africa is also driven by the struggle for resources
Within a couple of months this had tipped longstanding demands for self-determination into armed rebellion – and then the takeover of northern Mali by Islamist fighters, some linked to al-Qaida.
Foreign secretary William Hague acknowledged this week that Nato's Libyan intervention had "contributed" to Mali's war, but claimed the problem would have been worse without it.
In fact, the spillover might have been contained if the western powers had supported a negotiated settlement in Libya, just as all-out war in Mali might have been avoided if the Malian government's French and US sponsors had backed a political instead of a military solution to the country's divisions.
French intervention in Mali has now produced the fastest blowback yet in the war on terror. The groups that seized the In Imenas gas plant last week – reportedly with weapons supplied to Libya by France and Britain – insisted their action was taken in response to France's operation, Algeria's decision to open its airspace to the French and western looting of the country's natural resources.
It may well be that the attack had in fact been planned for months. And the Algerian government has its own history of bloody conflict with Islamist movements. But it clearly can't be separated from the growing western involvement across the region.
France is in any case the last country to sort out Mali's problems, having created quite a few of them in the first place as the former colonial power, including the legacy of ethnic schism within artificial borders – as Britain did elsewhere. The French may have been invited in by the Malian government.
But it's a government brought to power by military coup last year, not one elected by Malians – and whose troops are now trading atrocities and human rights abuses with the rebels.
Only a political settlement, guaranteed by regional African forces, can end the conflict. Meanwhile, French president François Hollande says his country will be in Mali as long as it takes to "defeat terrorism in that part of Africa". All the experience of the past decade suggests that could be indefinitely – as western intervention is likely to boost jihadist recruitment and turn groups with a regional focus towards western targets.
All this is anyway about a good deal more than terrorism. Underlying the growing western military involvement in Africa – from the spread of American bases under the US Africa Command to France's resumption of its post-colonial habit of routine armed intervention – is a struggle for resources and strategic control, in the face of China's expanding economic role in the continent. In north and west Africa, that's not just about oil and gas, but also uranium in countries like Niger – and Mali. Terrorism has long since become a catch-all cover for legitimising aggressive war.
The idea that jihadists in Mali, or Somalia for that matter, pose an existential threat to Britain, France, the US or the wider world is utter nonsense. But the opening of a new front in the war on terror in north Africa and the Sahel, accompanied by another murderous drone campaign, is a potential disaster for the region and risks a new blowback beyond it.
Continue reading
here
.